Keiko Takamura .Edit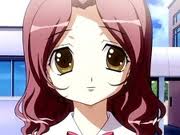 Ichika describes her friend Keiko as "a proper young lady from a good family, gentle and kind." She is the type who is easily amused by simple things, such as shaking a duster in a sunbeam. Her parents appear to be rather controlling, however, which causes Keiko some distress with regards to a boy she liked.
Ad blocker interference detected!
Wikia is a free-to-use site that makes money from advertising. We have a modified experience for viewers using ad blockers

Wikia is not accessible if you've made further modifications. Remove the custom ad blocker rule(s) and the page will load as expected.